HW-I800 Electric Road Sweeper\Cleaning Sweeper\Floor Sweeper
HW-I800 Industrial Sweeper Cleaning Equipment is equipped with a high efficient roller-shape sucking filter and an automatic cleaning system. It is mostly used outdoor. It is widely used by the environment and hygiene departments, cleaning companies and property management companies, square, colleges and universities for outdoor cleaning.
CHARACTERISTICS:
1/ powerful built-in dust control systems, more powerful vacuum, sweep width of up to 1800mm
2/ the use of advanced high-performance maintenance-free batteries, no leakage, do not produce harmful gases
3/ has international advanced clean-rejection technology, dust box rate up to 100% of the theoretical value
4/ the reliable good quality parts help to reduce maintenance and repair costs.
5/ solid tire, airport-specific, strong and durable
6/ imported electronic control device, current protection device, low-voltage protection device, enforced pallet, bigger in size of trash bin.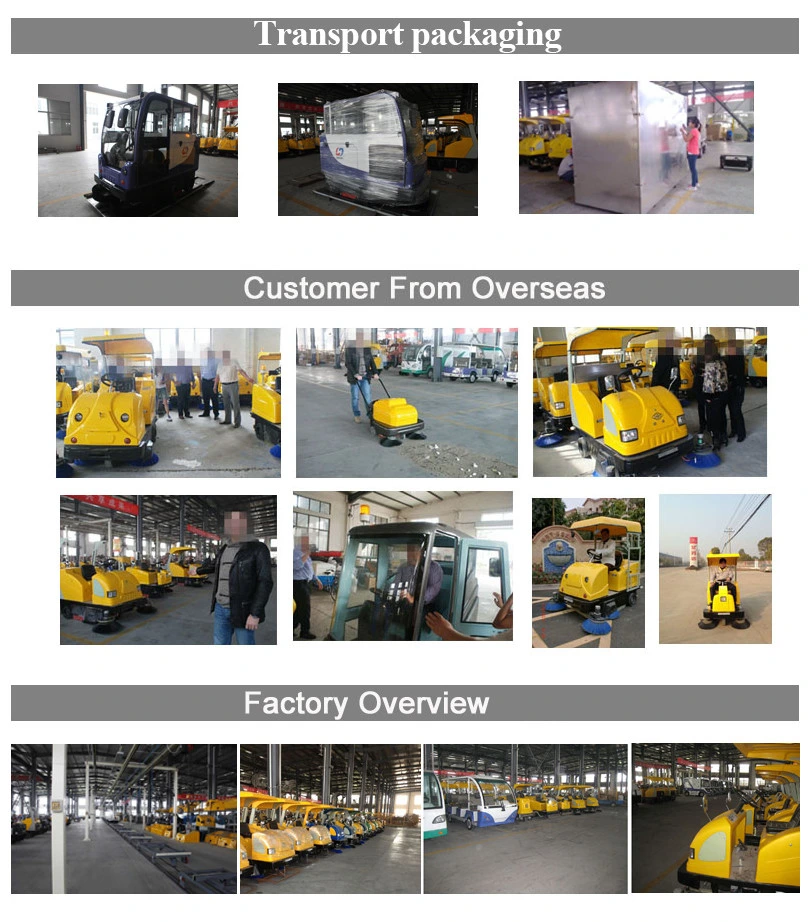 Main Parameter of HW-I800 Electric Road Sweeper\Cleaning Sweeper\Floor Sweeper
| | | | |
| --- | --- | --- | --- |
| No. | Item name | Unit | HW-I800 |
| 1 | Sweeping paths | mm | 1800 |
| 2 | Productivity | m 2 /h | 10000 |
| 3 | Max climbing capacity | % | 20 |
| 4 | Length of main brush | mm | 700 |
| 5 | Power supply | v | 36 |
| 6 | Continuous working hours | h | 6-8 |
| 7 | Dustbin Capacity | L | 150 |
| 8 | Cubage of water tank | L | 30 |
| 9 | Side brush Diameter | mm | 500 |
| 10 | Driving Power(Motor) | w | 1500 |
| 11 | Working Power(Motor) | w | 600+500+80*4+50 |
| 12 | Turning Radius | mm | 1200 (spot turn) |
| 13 | Dimension (L/W/H) | mm | 2150*1750*2020 |
| 14 | Max working speed | km/h | 7 |
| 15 | Max running speed | km/h | 8 |
| 16 | Filtering area | m2 | 5 |
| 17 | N.W. | kg | 690 |