Mini USB Rechargeable Handheld Auto-Stop Vacuum Sealer Machine
Features:
1. One touch operation, vacuums airtight by pressing one button;
2. Smart auto-stop function, one short press, it will keep working till second press. Long press for 3 seconds start to transfer the AUTO-STOP function, it will keep working and automatically stop after vacuum finished;
3. USB Rechargeable: 1000mAh battery, charging 2hrs can keep working for 3hrs.
4. ABS material, impact, heat, abrasion, low temperature resistance, and easy maintain;
5. Super vacuum power, with maximum vacuum pressure 55KPA, suction power 7L/Minute, which ensures it can be 8-12 seconds to seal;
6. Mini size, very convenient to take along, particularly suitable for food preservation during travel or outdoor activities;
7. Wide Application, ideal for reusable vacuum bags(sous vide bag),vacuum container, vacuum jar, vacuum universal lid, wine bottle stopper;
8. Efficient & Multifunction, not only for solid and semi-solid food freezer storage such as fresh meat, fruits, vegetables, nuts and snacks vacuuming and sealing, also water-proof for letters, magazines, travel license, money etc., and many other household items storage which is prevented from dust and humidity.
Using steps:
1. Put the food(or the stuff which need to be vacuum packed) into the vacuum sealing bags, which is reusable for more than 30-50 times;
2. Pull the zipper;
3. Place the Bag flat on the counter making sure there is no food above the Maximum Fill Line or under the Air Valve;
4. Press Vacuum Sealer Tip flat against the Air Valve;
5. Press the button to remove air from bag, and press button one more time when the bag becomes tight as you want, or long press the button for 3 seconds to start the AUTO-STOP function, it will keep working and automatically stop after vacuum finished.
(** Similar operation for vacuum container, vacuum jar, vacuum universal lid, wine bottle stopper**)

Application with vacuum bags/containers/jars/lids:
1. Keep food fresh 3-5 times longer than traditional storage methods
2. Save money by buying in bulk and pre-packaging individual servings
3. Reseal open bags of cooked foods,dry foods and other foods
4. Protect against freezer burn, spoilage and odor
5. Protect cherished photos and valuable documents
6. Keep charts, maps and matches safe and dry when boating or camping
7. Seal baseball cards and stamps
8. Wrap cosmetics for travel to protect against spills
9. Prevent silver and jewelry from tarnishing
10. Reusable vacuum bag is also ideal for sous vide cooking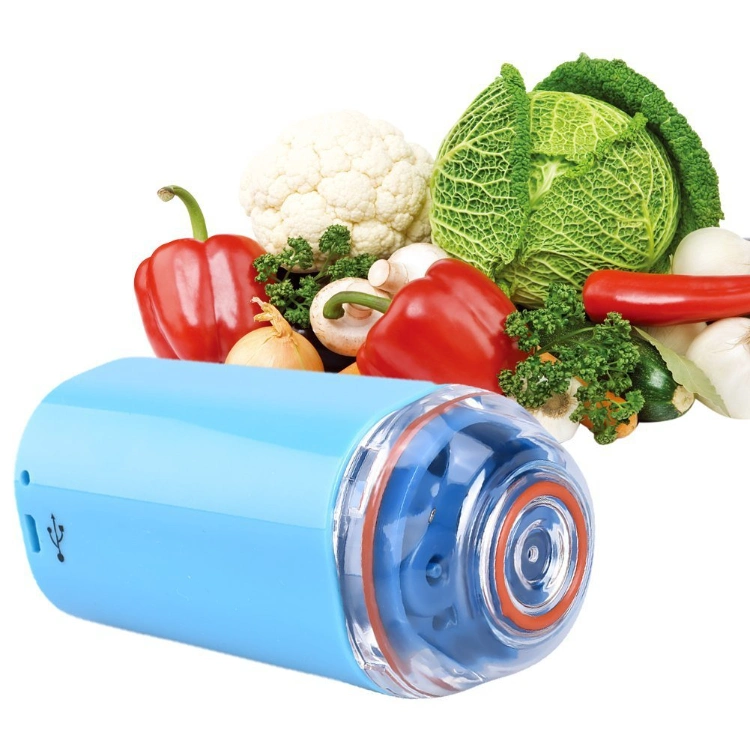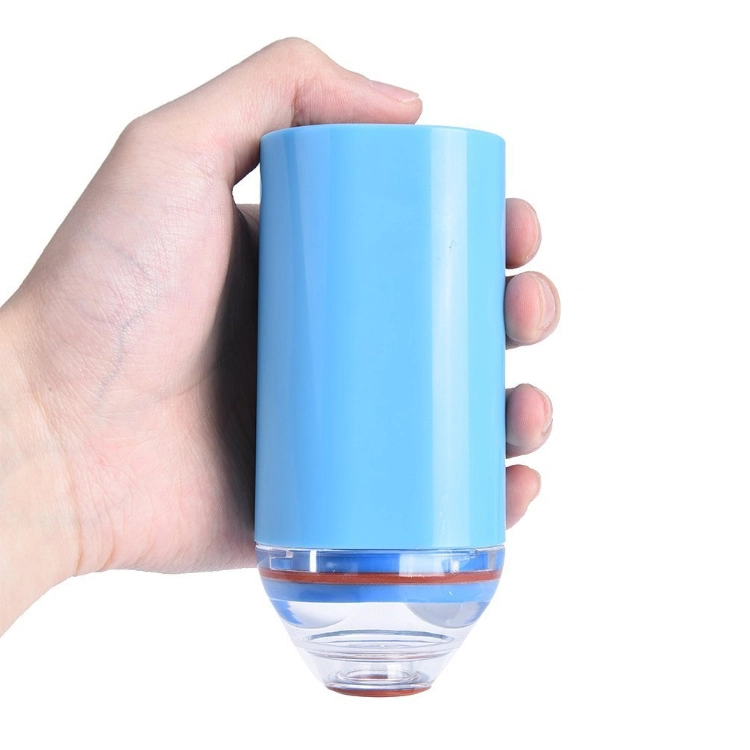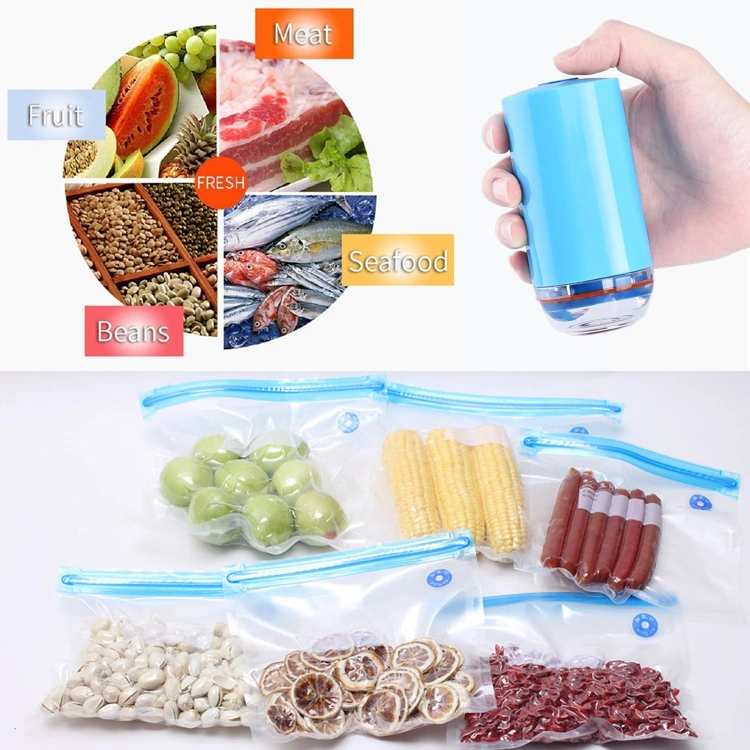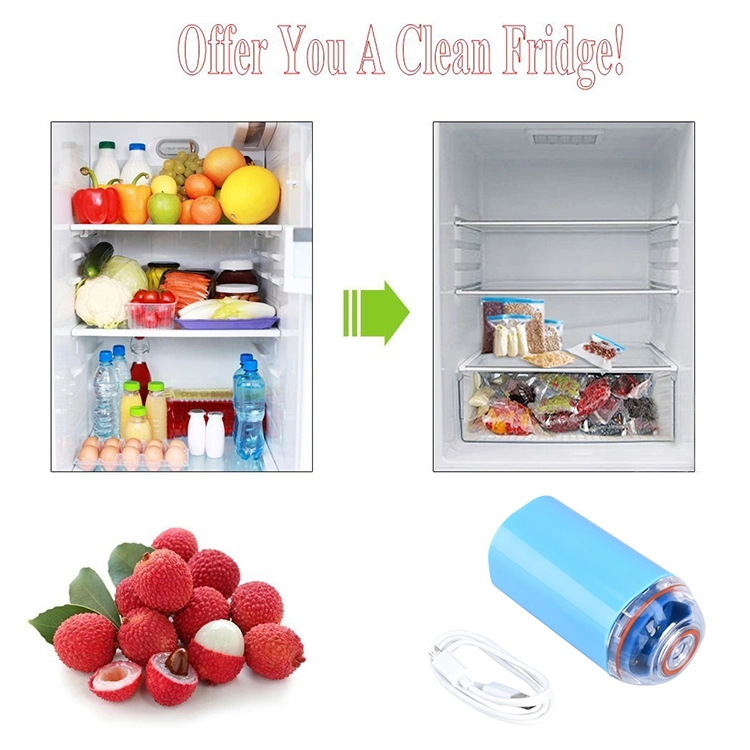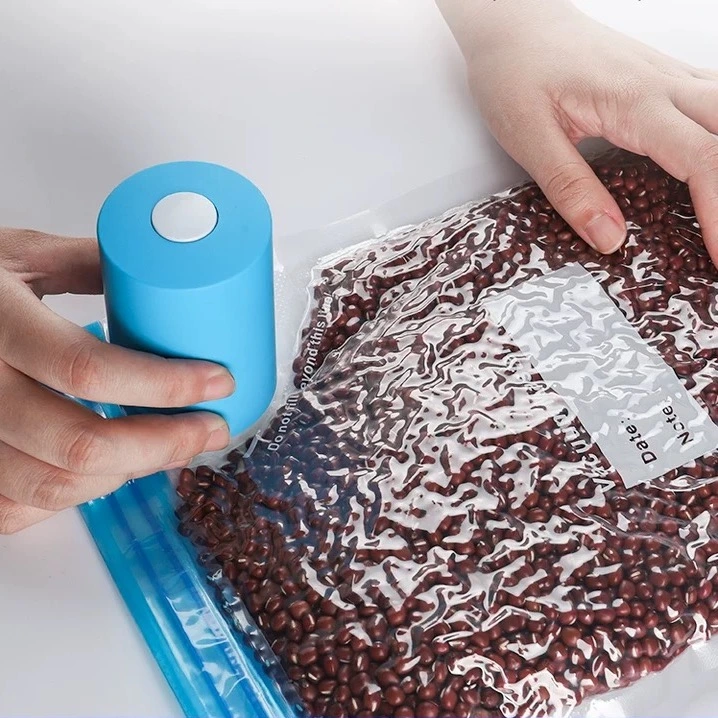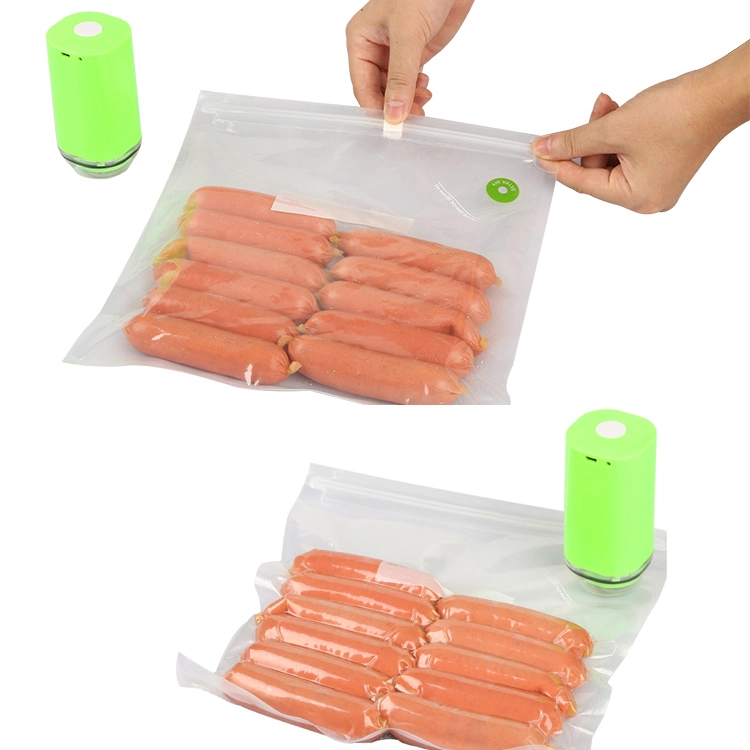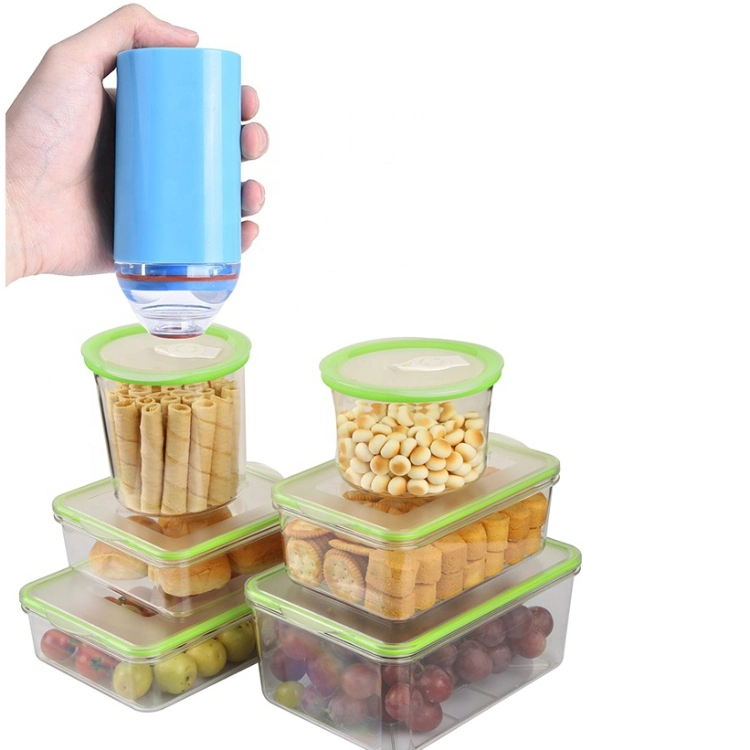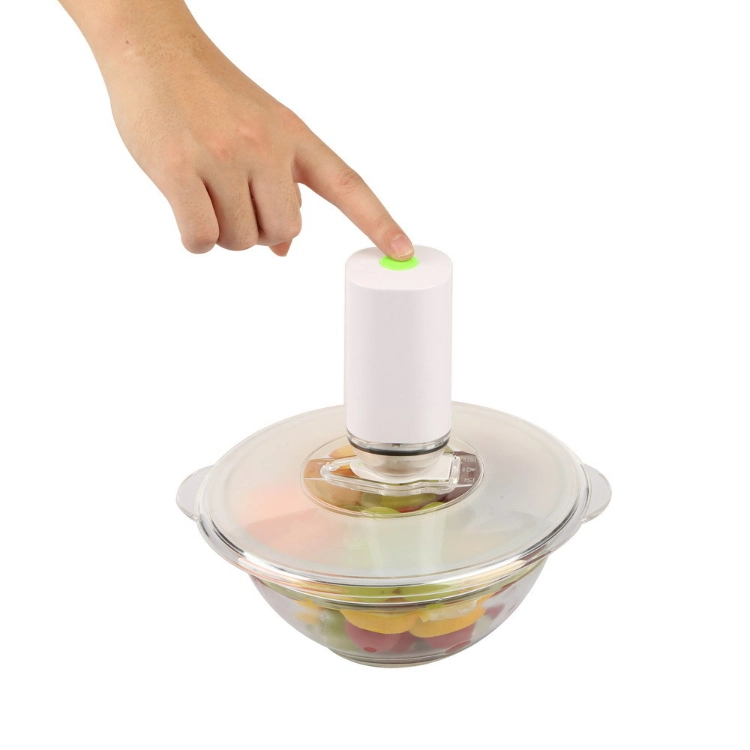 Package: (OEM/ODM available)
Gift box package set: 1pc vacuum sealer, 1pc charging cable, 1pc manual

1 SET/ box
BOX SIZE: 11.5x6x6.5cm
QTY: 50SETS/CTN
MEAS: 35x32x26CM
G.W.: 9.3KGS,
N.W.: 8.5KGS

What is the Vacuum Food Storage System?
The Vacuum Food Storage System is an innovative product designed to extend the shelf life of your food dramatically. It includes an unique hand-held Vacuum Sealer that removes air from the patented Vacuum Food Bags. Air out, Freshness in.

How do the USB Rechargeable Vacuum Sealer and Vacuum Food Bags work?
The USB Rechargeable Vacuum Sealer works with the patented special Vacuum Food Bags with zip top and air valve. Once air is removed, the Bag forms a tight seal around the food. This system virtually eliminates freezer burn during freezer storage and retard oxidation & growth of bacteria, and keep your food fresh 5 times longer than other traditional storage methods.

What is the advantage of your USB rechargeable vacuum sealer, compare to other conventional countertop vacuum sealer?
1. Same function, but good quality,high-performance and cost-effective.
2. Cordless,mini,compact and easy to use, just one touch operation.
3. Convenience, not only use at home but you can also can take it to anywhere,such as outdoor camping,fishing,picnic,etc.
Are the vacuum food bag reusable?
Yes, the vacuum bag can be used again and again, reusable for about 30-50 times.
Is there any difference between your vacuum food bag and other food bags?
Yes, our Vacuum Food Bags have a patented Zipper Closure and Air Valve that work with our Handy Vacuum Sealer to remove air and seal tight around the food. Other food bags don't have this good function and it's easy to cause the food damage or go bad.
Can the vacuum bag store liquid?
It's not recommended to store liquids or liquid based food,such as soup,porridge etc.
It's great to store the meats freezing coated,fruits and dry foods,or even stamps,photos,forks etc.
Can I take Vacuum Bags in the microwave?
Yes, our vacuum bags are suitable to put into microwave for ice-melting/defrosting using the defrost (30% power) setting. Open the zipper, Place Bag on a microwave-safe dish before placing in microwave. After defrosting, handle with care as Bag and contents may be hot.