3m3 street cleaning machine road sweep vacuum sweeper truck for sale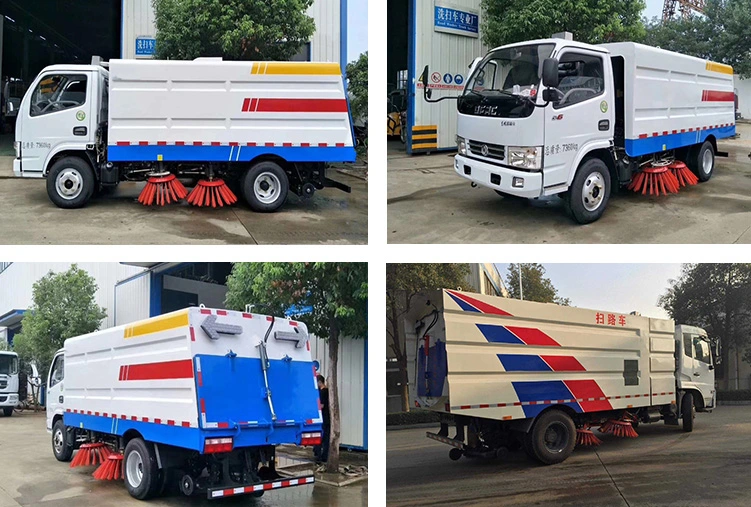 The benefits of buying a road sweeper
1. Save manpower and reduce costs: What is currently the most expensive? Is the original labor.
2. One vehicle and one person for road sweeper, fast speed, quick effect, short time.
3. The road sweeper is one of the magic weapons for improving the image of municipal enterprises. It can be used by the government, companies, and community cleaning!
working principle:
The auxiliary engine drives the hydraulic oil pump and fan to work. The hydraulic oil pump drives the left and right scanning discs to retract, lift, and rotate. The left and right scanning discs sweep the garbage on both sides under the sweeper and in front of the suction nozzle. The fan generates high-speed airflow in the air duct composed of the dustbin, suction pipe and nozzle. Under the action of airflow, garbage is sucked into the nozzle and enters the dustbin. The chassis engine drives the scrubber to move forward, and the garbage scanned in front of the suction nozzle continuously enters the suction nozzle, and is continuously sucked into the trash bin to achieve road cleaning.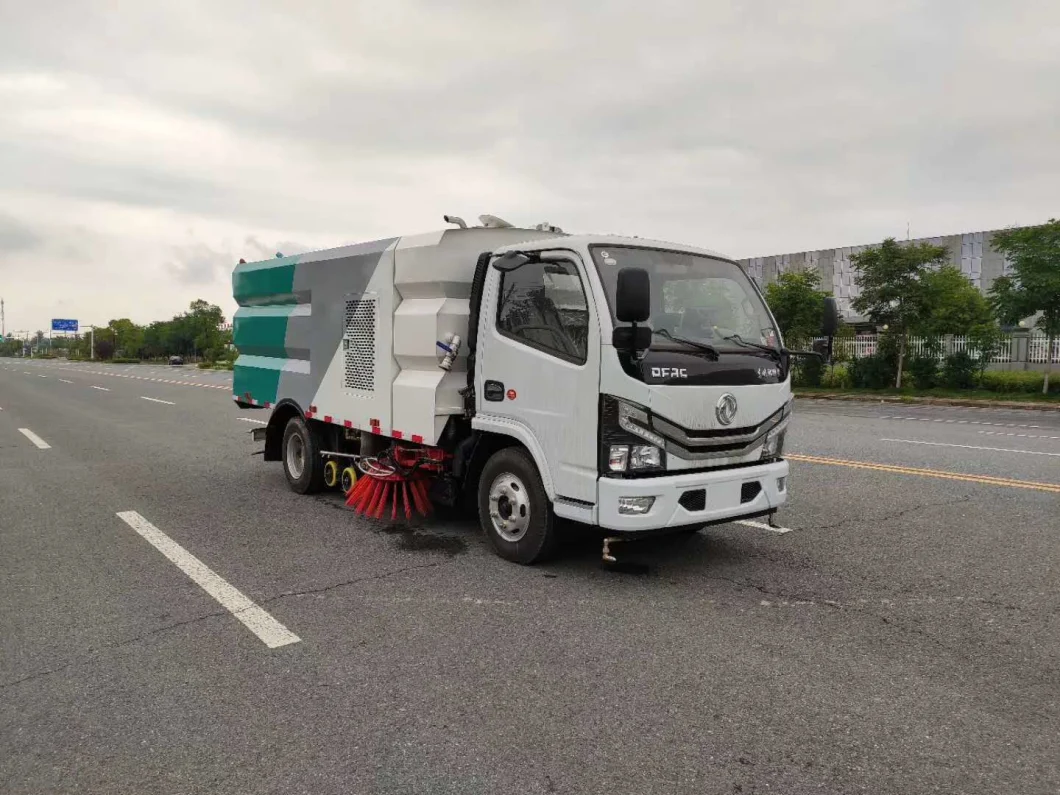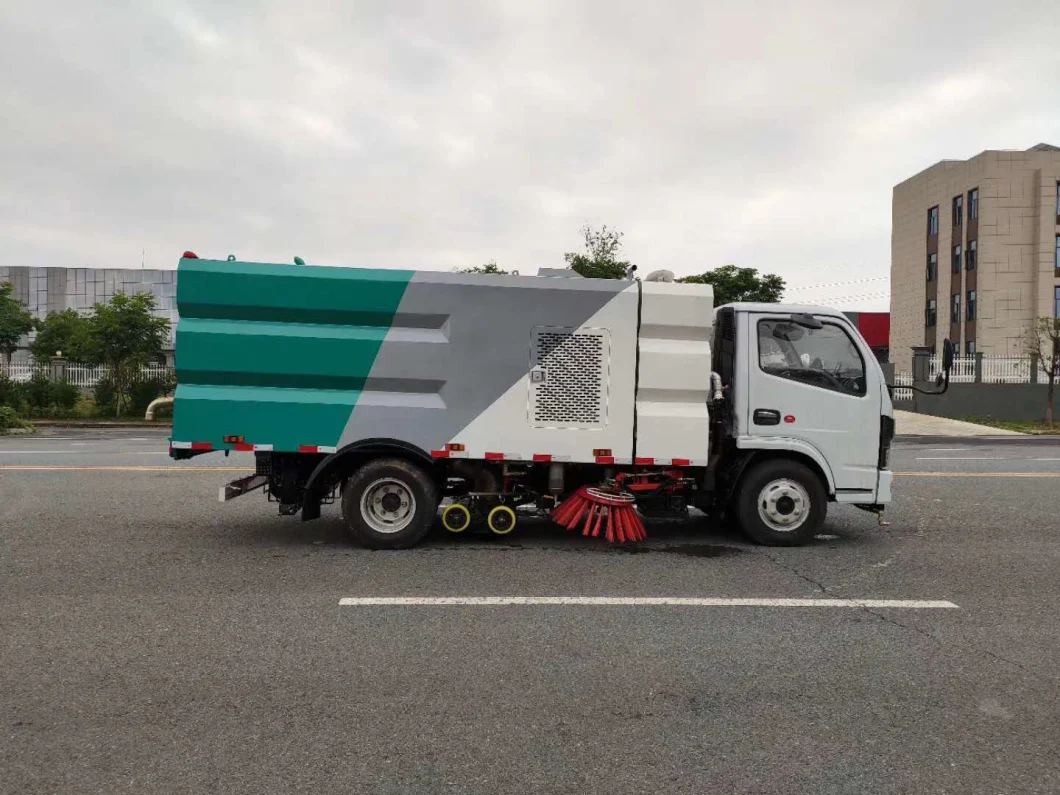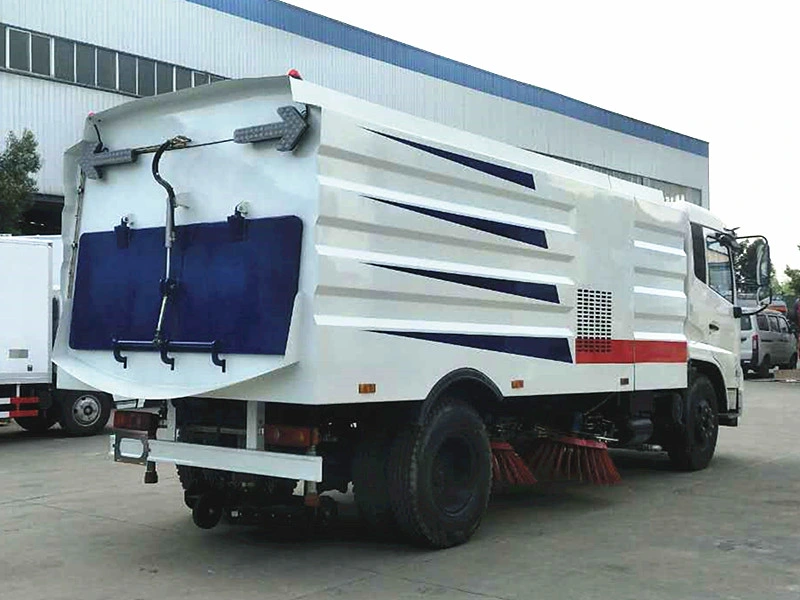 Tecnical Parameters
Cab

Dongfeng Small Dorica Cab

Reversible with A/C

Front axle

2.5 Tons

Rear axle

5 Tons

Gearbox

WLY5305 transmission

Truck frame

Through reinforced girder

Tires

6.50R16 type steel tire 6pcs

Wheelbase (mm)

2600

Number of tires

6 PCS

6.50R16

Drive type

4*2

engine

CY4120-C3F

70KW

Displacement

3.856L

Emission Standards

Euro III

brake

Drum / air brake

Braking System

Air-break braking system

Partial configuration

Trash can material

304L/4mm

Box shape

Rectangular box

Water tank material

304L/4mm

Trash bin volume

3 m3 With dustbin self-cleaning function

Water tank volume

1.2 m3

Sweep

4 pcs / sweep plate speed to achieve independent 3 speed adjustment

Auxiliary engine

Yuchai / 50HP

Cycloidal Motor

Liwo

Control switch

Siemens

Solenoid valve set

Taiwan brand

Hydraulic oil pump

Anhui Liquid

Water pump

XIN XI SHAN brand

clutch

Maintenance-free self-separating

Blower

Maintenance-free

Emergency system

Manual

Brush arm rotation
mechanism
High-tech wear-resistant engineering spacer sleeve,
free of lubricant; precision cold-formed seamless hydraulic oil pipe

Sweeping width

3.2m

Work ability

45000-90000m² / h

Maximum inhaled particles

110mm

Cleaning efficiency

More than 95%

Operating speed

3-25km/h

Monitoring device

Back-up and cleaning status indoor monitoring

Maximum unloading
angle of trash

45 degrees

LED arrow light

Have

Electric tail control device

Have
Details Display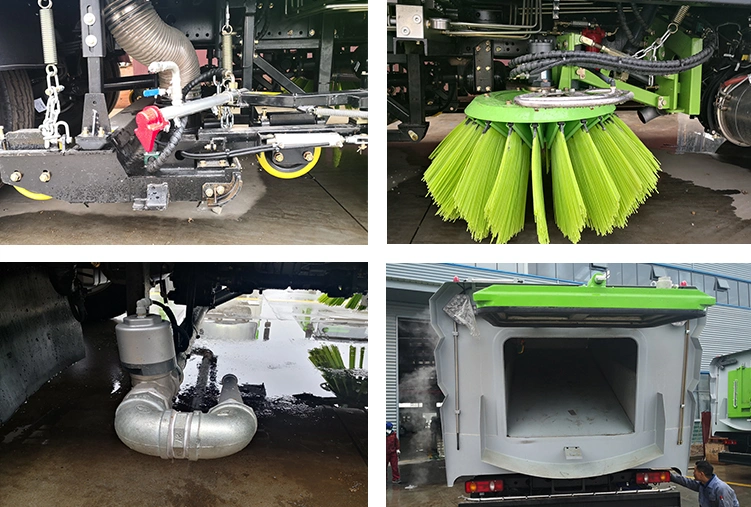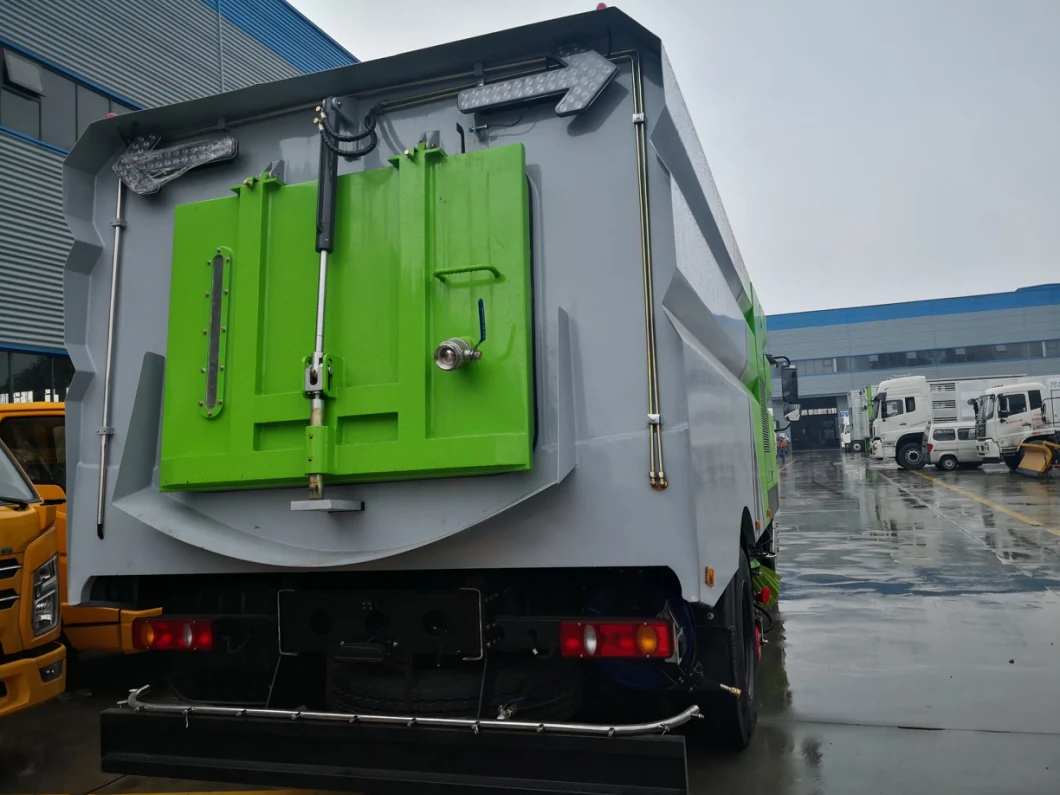 Certificate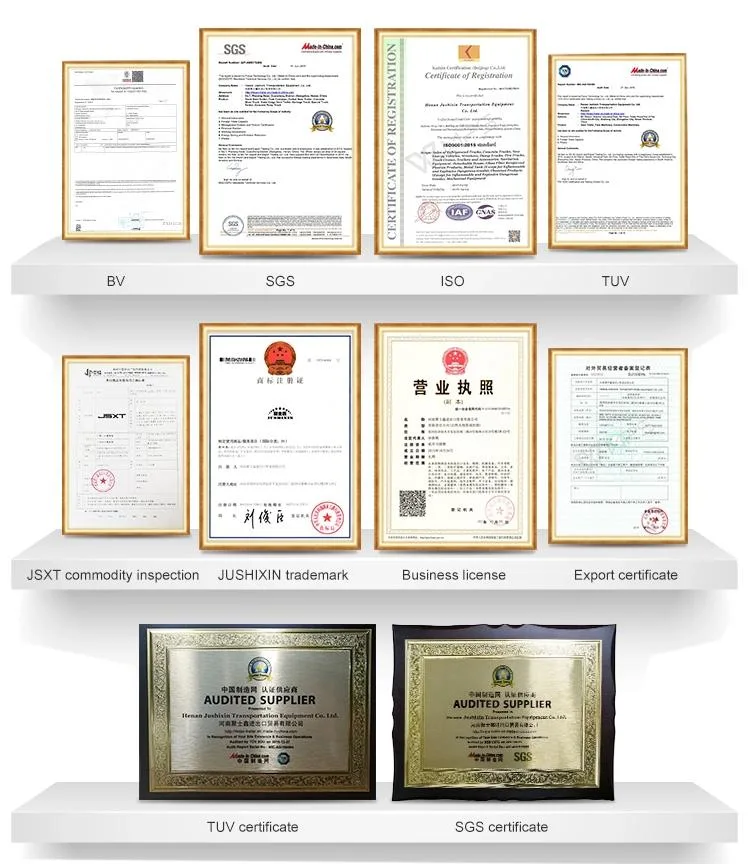 More related:
Suction truck, garbage compression truck, water tank truck and tow truck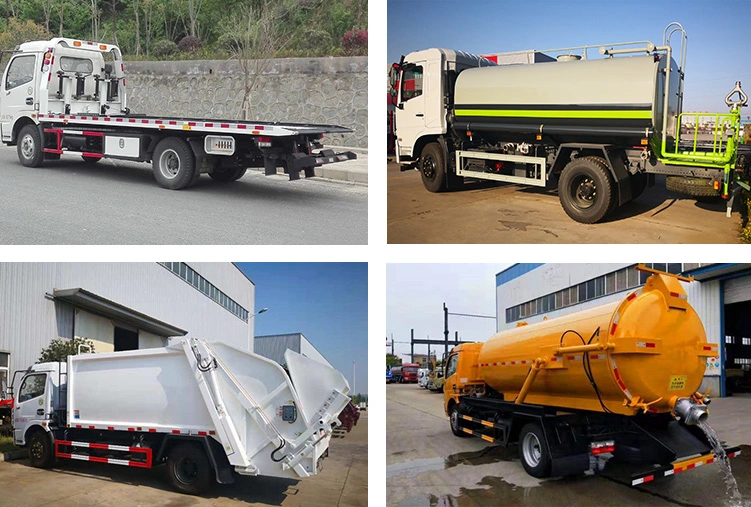 Packing and shipping: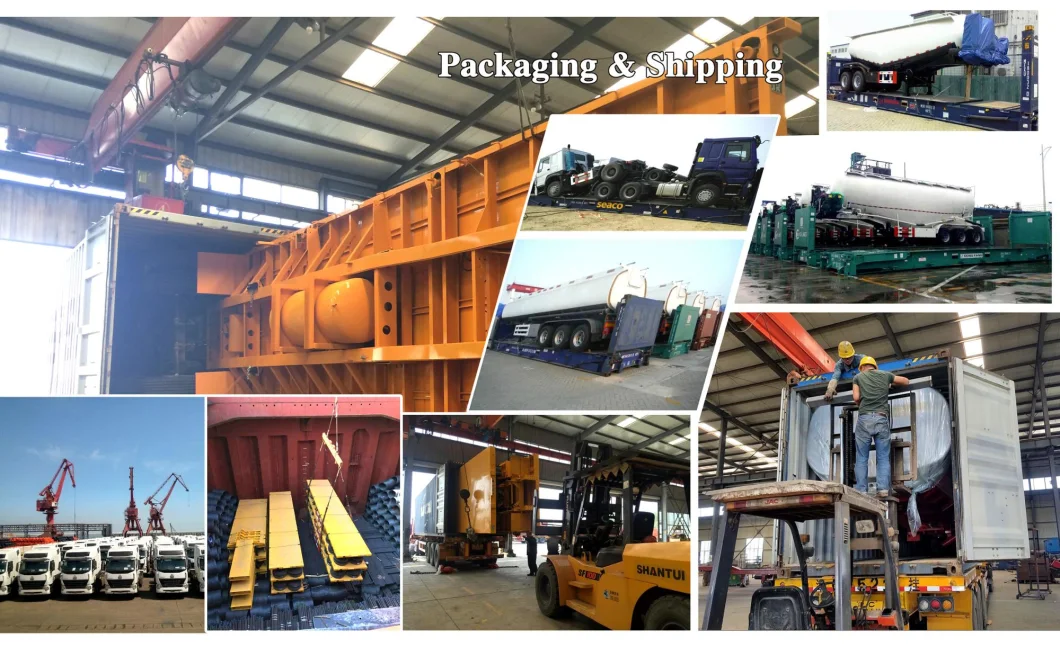 FAQ:
1.Payment term: T/T or L/C
100%T/T, 30% deposit for production, pay the balance 70% before the shipment.



2. Warranty : 12 months




1) Main beam for 2 years




2) Axle and other conditions for 1 year




3) No warranty for consumable parts, but we will send you free consumable parts, on-board tools, wires, lamps, etc. before the shipment.




4) Free consultation service for life.




5) Technical repair and guidance questions, engineers can come to service
3.Delivery time: 30 working days
Check if the product is in stock or sufficient raw materials
Normal
quantity order delivery time is 15 working days
Big project need to check request delivery time and delivery details required
4.Services
Welcome to visit
our
factory at any time
Order confirmation, drawing confirmation, details and requirements confirmation.
Production photos and videos are updated to customers every week
24 hours online for consult
Provide support for post-parts demand, factory price direct
delivery
.
5. LOGO & Color:
factory recommend or as your request.
Our welding workers who have international welding certificate with good technically.We have QA&QC control in each production link, and will continue production after passing the inspection.
Various production line processes.
Welcome consult recent best offer !