Sterilization Equipment Disinfection Robot for Virus UVC Disinfection Robot Sterilizer
Description
UV ROBOT takes mobile robot platform as the carrier, and is equipped with intelligent pulse ultraviolet disinfection module, which can realize the requirement of 360° non-dead corner disinfection of public space air. At the same time, robot self-navigation technology and AI environment recognition technology can be used to automatically plan the path and judge the disinfection time required by the working environment, so as to achieve one-stop disinfection management.
To ensure the air health in public places, it is very important for the public to create a comfortable, clean and hygienic environment.

UV ROBOT uses short-wave UVC ultraviolet to disinfect and sterilize bacteria. Within a few minutes, DNA and RNA of bacteria are destroyed and killed, which can effectively achieve the elimination effects. After testing, with the high level disinfection mode, it can achieve 99.9999% killing effects for the spores on the environmental surface (smooth surface, rough porous surface) and various drug-resistant bacteria, completely meets the high level disinfection requests. With the mobile robot as the carrier, for the environmental surface and air with the autonomous mobile multi-point disinfection, it takes about 150 minutes to complete the 1000 square meters of the overall disinfection work, over 10 times than the previous manual, fixed disinfection efficiency and effects.
Features
· Indoor self moving multipoint UV disinfection
· Independent cloud service platform, remote navigation deployment, saving time and effort
· Timing disinfection function, automatic execution of disinfection tasks
· Integration of laser slam and v-slam, accurate map construction and positioning
· Low power automatic charging, unmanned operation
· 0.5 seconds intelligent obstacle avoidance, indoor route planning
· Six UV-C lamp tubes
· 8000 hours long service life
· UV irradiation with short wave 254nm sterilizing lamp can effectively disinfect and sterilize
· It has high efficiency, broad spectrum, thoroughness, no drug resistance and no secondary pollution
· Ultraviolet disinfection meets the national standard GB 19258-2012 ultraviolet disinfection lamp
Photos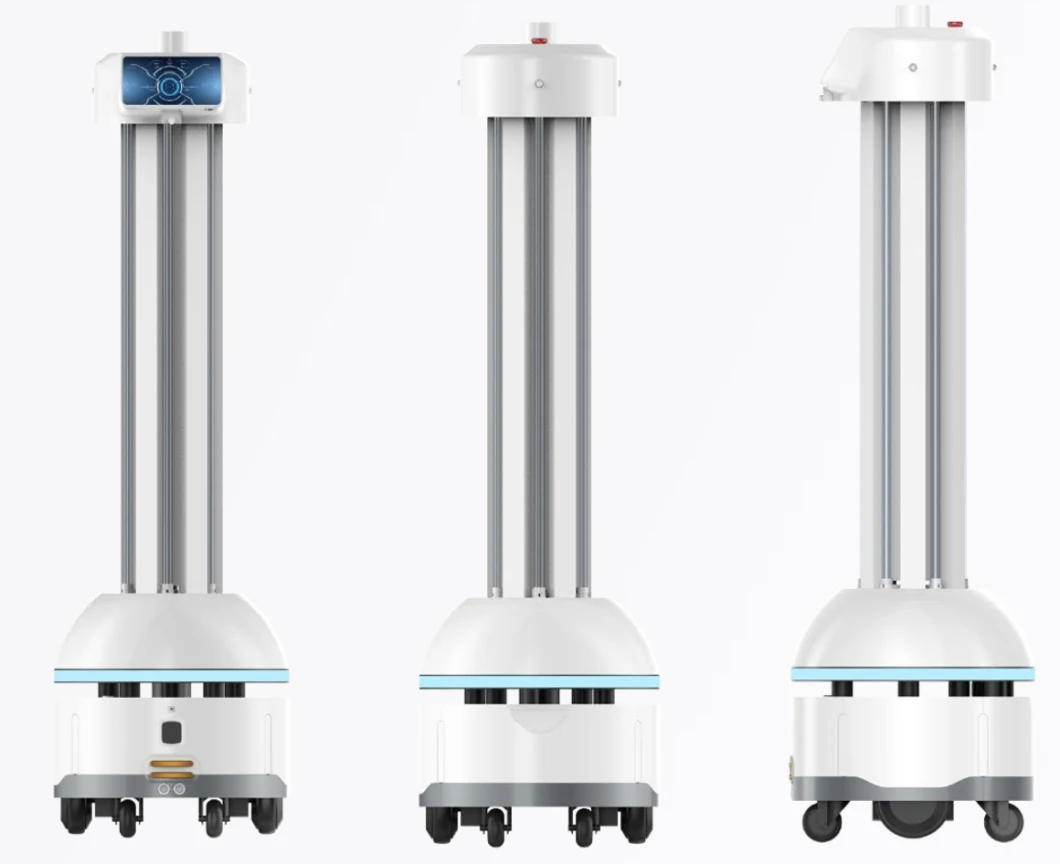 Specification
| | |
| --- | --- |
| Lamp Model | Signify (TUV T8) |
| Battery Life | 2.5~3h |
| Lamp Power | 30W/pcs*6pcs=180W |
| Screen Size | 7 Inches |
| Lamp Length | 90cm |
| Support Language | Chinese/English |
| Lidar | 20m |
| Product Weight | 57KG |
| Type of Battery | 10S16P 20800 mAh/37V |
| Product Size | 450mm*450mm*1462mm |
Application




Raletd Products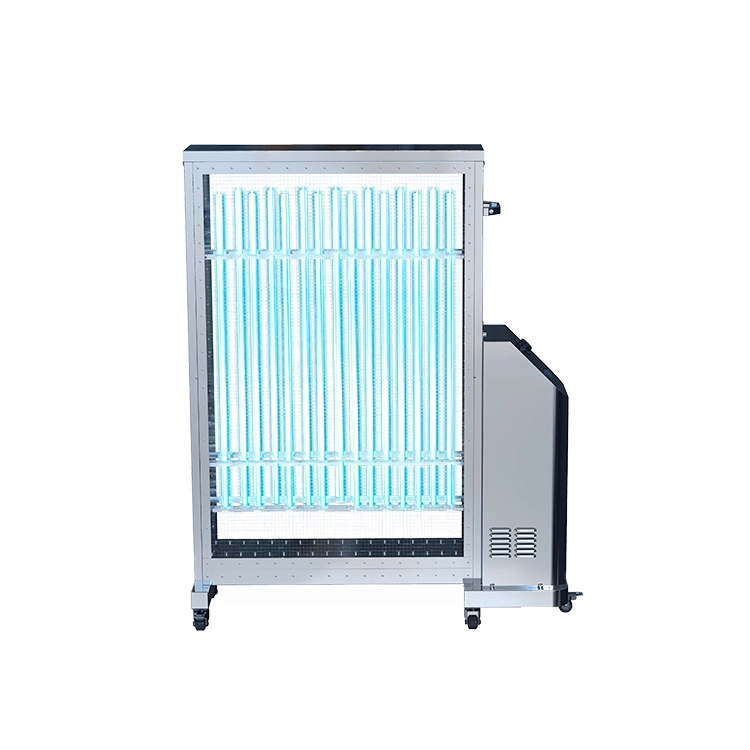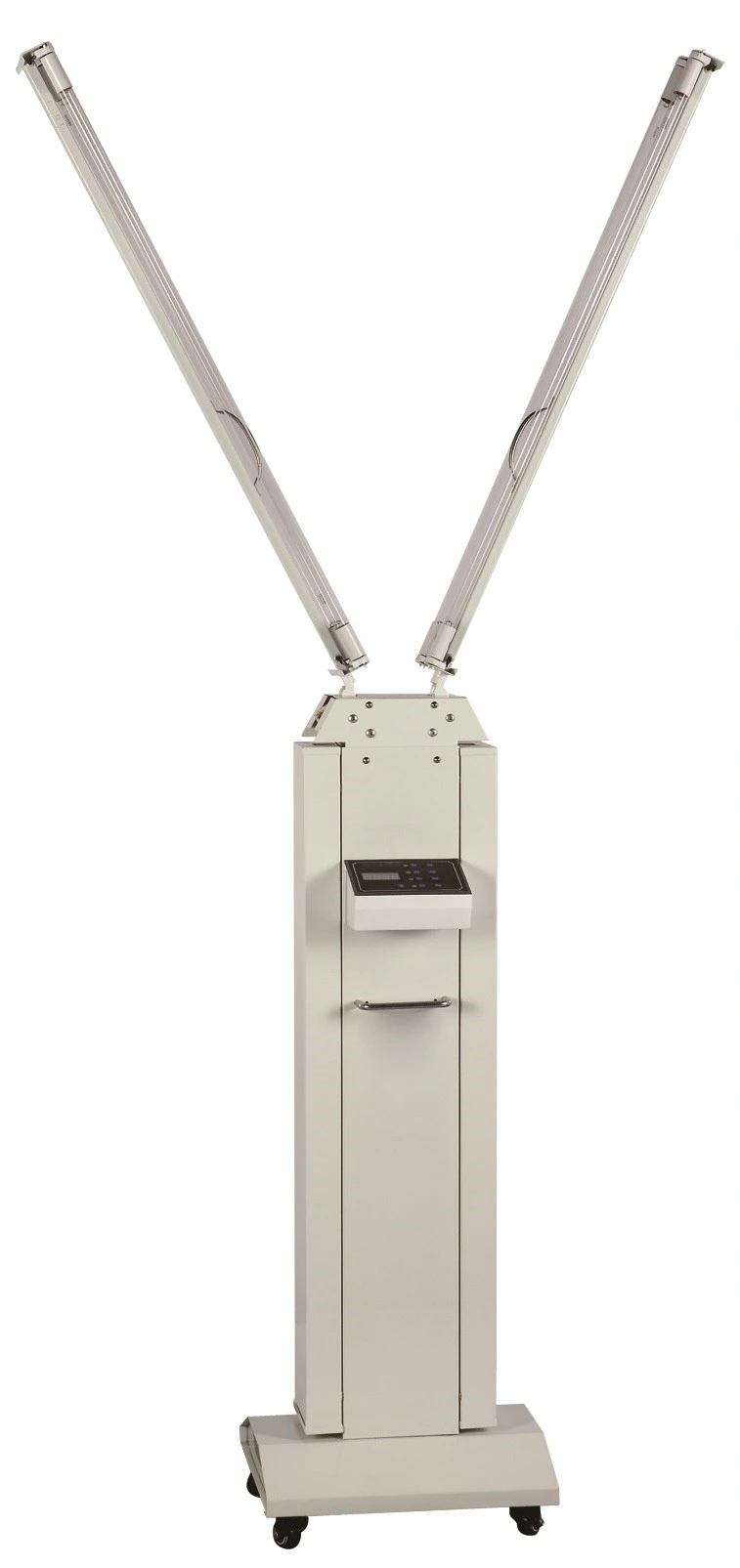 1000W (15 Tubes) UV Lamp Air Sterilization 144W (4 Tubes) UV Lamp Disinfection Trolley